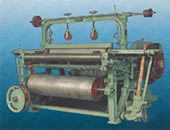 WHO3 Window Screen Looms are of shuttle type designed for manufacturing light weight screens. They are suitable for handling low carbon steel and aluminium alloy wires to produce window screens, as well as black iron, stainless steel, copper, and other metallic wires to produce screens with square or rectangular meshes.
HH Series Wire Netting Machine
HH Series Wire Netting Machine is designed to produce hexagonal screens with galvanized low carbon steel wires, suitable for structural, heat insulation, protective, and fencing applications. The machines of this series are of horizontal design, ensuring smooth running and high productivity.