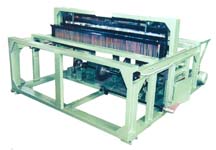 This series wire net-weaving machine is a special kind to weave all kinds of wire mesh in different square holes by the rolled and curved wires in big diameter. It is in compact structure, excellent performance, easy operating, and reliable running.
The largest broad width for wire net product is 2 meters with the largest wire diameter of 8mm. The minimum net hole within a certain wire diameter is of 3x3mm, but the largest one is of 60x60mm.
The wire net products are widely applied by mine as the grading sieve with the nickname of "Mine-Sieve-Net", the machine therefor earned the nickname of "Mine-Sieve-Net-Weaving-Machine".